THE UPPERS: BE ORIGINAL, BEST SPOTS FOR AN EXCEPTIONAL GIFTS.
Hot gift season officially arrived! Since it's a season of gratefulness, appreciation and joy, let's try not to go crazy, desperately trying to find gifts for our cherished ones. Choosing a gift it's not easy, by the way, and might become like a scene from a horror movie. So where to find those unique gifts?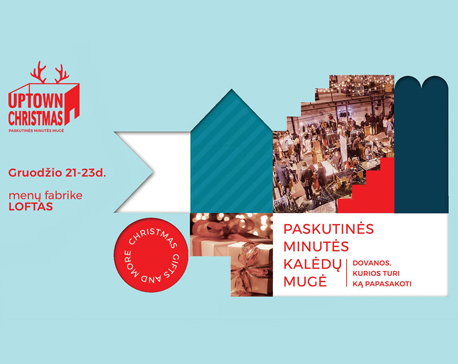 1.
UPTOWN CHRISTMAS: LAST MINUTE MARKET VILNIUS, LITHUANIA
First spot we recommend is to visit the Uptown market, held in the beautiful capital of Lithuania, Vilnius. Arts factory "Loftas" as always at this time, gives a helping hand to all those Santa Clauses in a constant rush still searching for the best presents.
You will find more than 100 trendiest designers and creators. Thousands of present ideas – from hand made to must have hits of the season. Delicious street food. Mulled wine. Music which will be a saviour from a most boring shopping mall soundtrack with Mariah Carey and all the others. Entertainment and workshops for the little ones.
Pss.. And the THE UPPERS will be there! 😉 Don't lose the opportunity to have fun while looking for a perfect present! Silk scarf, beautiful bracelet or a pocket square is always a good idea for your beloved ones. At the
All information can be found following this link:
http://www.vilnius-events.lt/en/event/christmas-factory-last-minute-market/
ADVENT OF ZAGREB CRAFTSMEN
Voted as best in Europe Christmas market!
The wooden houses abounding in handcrafted souvenirs and Christmas gifts and decorations are interwoven with those exuding the scent of cooked sausages, roasted chestnuts, pastries and cakes, as well as mulled wine. Knitted scarves, hats and gloves are impatiently awaiting their new owners, so that they could keep them warm or cold winter days. For the most breathtaking Christmas Fair atmosphere, just wait until nightfall, when all the handicrafts will be illuminated by the soft glow of Christmas lights. Feel free to engage in conversation with cheerful vendors, who – following a few sips of mulled wine – will be more than glad to regale you with a little story and their humor. 2
2.
During Advent, the City of Zagreb offers a traditionally rich cultural program that will satisfy even the most demanding visitors. 2
This year, the main stage at Ban Jelačić Square will feature many performers of popular music, renowned folklore societies, and numerous amateur choirs and performers. All performances and program activities are free for visitors to the capital. 2
LIVE THE ADVENTURE IN MANCHESTER
You have been choosing Manchester as your favourite Christmas market in the UK and one of your favourite Christmas markets in Europe for several years now. The, original, biggest and – arguably – the best Christmas market in the country, Manchester Christmas Markets is the ideal destination for a festive outing.4
5.
Arriving in the city in 1999, the first Christmas market in the UK has grown every year since, now attracting more than nine millions visitors each year. Some 300 beautifully crafted stalls offer mouth-watering international food, drinks and finely crafted Yuletide gifts in the heart of the buzzing city centre.4
Travellers especially appreciate the authenticity of this traditional Christmas market, probably more authentic and warm than the one in London.4
AT THE END we think that a gift, should be a sign of a gratitude and appreciation. The process of searching is as much important as giving. Let the good energy flow!
Happy festival season!
The Uppers team
REFERENCES: